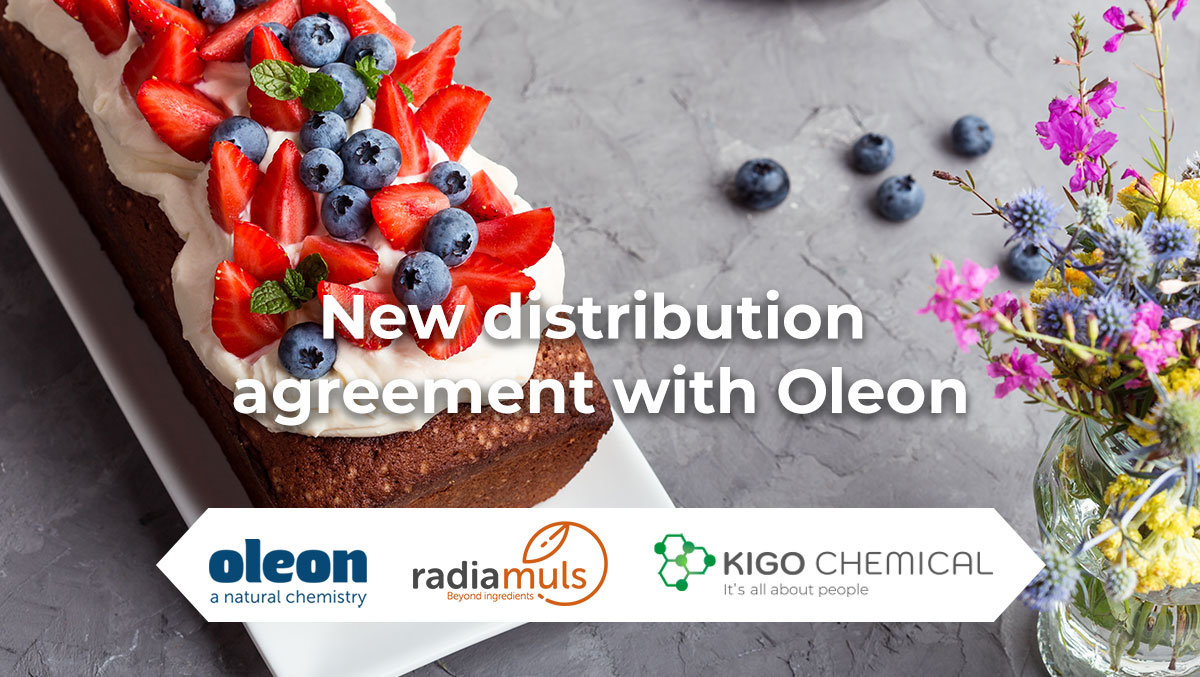 Oleon authorizes Kigo Chemical as its distributor of Radiamuls® line in Mexico
Kigo Chemical has entered into an agreement with Oleon to distribute its line of Radiamuls® emulsifiers in Mexico. Effective immediately, Kigo Chemical will provide its customers with access to Radiamuls® products for the Food industry.
Oleon Nutrition offers a wide range of vegetable oil based emulsifiers for food, flavor and fragrance applications. In addition to emulsifiers, the portfolio includes high-quality medium chain triglycerides. The use of oleochemicals in nutritional products is increasingly important as consumers demand more innovative and higher quality products.
Oleon's product range includes products for:
Bakery
Confectionery
Dairy and Non-dairy
Fats and oils
Process aids
Flavors and fragrances
Animal feed
Emulsifiers can be applied as a single component or in combination to worsen the synergistic effect. Radiamuls portfolio includes mono and diglycerides, PGPR, Datem, Acetem, Lactem, Citrem, SSL, polyglycerol esters, sorbitol esters and polysorbates.
Kigo Chemical is pleased to have signed this agreement with Oleon and to be able to supply these industry leading products to our customers.
About Oleon: Their specialty is converting natural fats and oils into a wide range of oleochemicals, including fatty acids, glycerin, esters, dimers, technical oils, specialty oleochemicals, and biodiesel. As a leading producer of oleochemicals made from renewable raw materials, its products combine high performance with easy biodegradability.
More information: OLEON | A Natural Chemistry
About Kigo Chemical: Kigo is a Mexican company dedicated to the distribution of specialty chemicals. It is made up of a team that has more than 15 years of experience, connecting opportunities and discovering success stories for our community and economy. Kigo Chemical understands that it is not only about providing the best product and service to its customers, but about understanding, listening to and growing with them.
Learn more at: www.kigochemical.com